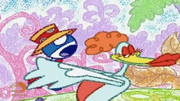 The Smooch
is a lady bird with large, puffy lips. Anyone who is kissed by the Smooch cant help but to laugh uncontrollably, until they have kissed someone who has never been kissed, which then, would transfer the laughing to that person, or take an antidote while singing the
Coconut
song.
Rudy, Penny, and Snap once encountered a Smooch while exploring an island, with the Baha Men. The bird kissed Snap, who chased Penny until snap was catapulted into her face, which then resulted in Penny chasing a reluctant Rudy, who tried to stop her with a giant peanut-butter & jelly sandwich mousetrap. He had a change of heart, and tried to correct what he did by stopping her, but they both fell into the gooey sandwich-trap, which obscured their first kiss. After Rudy was kissed, the Baha Men provided him with an antidote while singing the Coconut song along with Snap and Penny.
Ad blocker interference detected!
Wikia is a free-to-use site that makes money from advertising. We have a modified experience for viewers using ad blockers

Wikia is not accessible if you've made further modifications. Remove the custom ad blocker rule(s) and the page will load as expected.